A selection of published articles about Hannah Frank, from Scottish and other press.  Where there is no longer a web link to the article, we have reproduced them here with permission.
Hannah Frank
Artist and sculptor; Born August 23, 1908; Died December 18, 2008.
Gordon Caseley. Herald Scotland, Friday 26th December 2008.
http://www.heraldscotland.com/hannah-frank-1.898346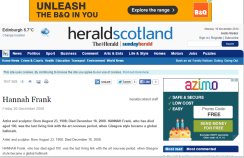 Hannah at 100
Brian Morton, The Scotsman, 8th August 2008
http://www.scotsman.com/news/hannah-at-100-1-1083986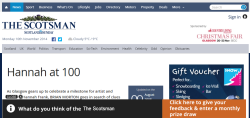 Obituary: Hannah Frank, Artist and Sculptor
The Scotsman, 29th December 2008.
http://www.scotsman.com/news/obituaries/hannah-frank-1-1153573
Lifestory: Footprints on the Sands of Time. Fiona Frank and Judith Coyle
Faith Initiative, Winter 2010-1011.
http://www.faithinitiative.co.uk/article.php?issue=1305210232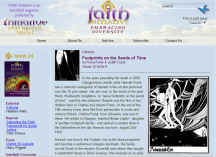 Also in the same edition of Faith Initiative was a poem by Rhona McKellar from the Isle of Harris, entitled Egypt's Agonies - one of the prizewinning poems in the 2009 Hannah Frank Poetry Competition (hyperlink to the Poetry Competition section of the site).
You can see the published poem here http://www.faithinitiative.co.uk/article.php?issue=1305210234 .
Rhona was inspired by Hannah Frank's 1928 picture 'Then to the rolling heavens I cried'. Rhona, who has not had any poetry published before, said: "For a while I had been thinking about the story of the tenth and final plague - the death of all first-born in Egypt. Hannah's picture seemed to fit the theme. presenting the story from the point of view of an Egyptian was a good way to emphasise the tragedy of the tenth plague, a devastating story of pride and deep sadness."
Frank, fearless and free
Clio Millett, Falmouth Navigator. May 5, 2005
Three never-before-seen illustrations by the neglected Glasgow artist Hannah Frank are currently on show as part of an exhibition at the Falmouth Art Gallery. The pictures contribute to the Gallery's spring opener, the rather wincingly-entitled "Tree-mendous" exhibition, whose name perhaps belies the importance of the works on show.
Prestigious loans, including work by John Constable, Henry Scott Tuke and Paul Mount, feature alongside a raft of local artists in this showcase exploring man's relationship with the leafier species.
The daughter of Jewish Russian immigrants fleeing their homeland to escape persecution, Frank was born in Glasgow in 1908. Growing up in the Laurieston district of the Gorbals, she graduated from the University of Glasgow, later attending the famed Glasgow School Of Art where she discovered a latent talent for sculpture. Her artistic career spans 75 years, her life 97, across a tumultuous century when so much has been lost. The pictures, however, remain: a thin pen-and-ink rendering of the past.
These black and white illustrations - harking back to Art Nouveau with their elongated structures, medieval romanticism and melancholy air - are instantly recognisable. Like any artist of the age, Frank was clearly influenced by that master of monochrome Aubrey Beardsley (as well as her inherited legacy of the Glasgow School) and yet her style is unmistakably her own.
Her works seem to betray the hand of someone haunted, perhaps by her years lived between two world wars: the plight of the refugees, the Jews, her brothers in the army, and these tense times appear reflected in the designs. Danger waits, in the wings.
And yet there is hope there too - in this linear midnight world of characters who stand luminous and pale against their shadowy backgrounds. Such illustrations contrast starkly with the sculptures which Frank later became known for: bare, muscular bronze casts invoking Henry Moore.
Deeply influenced by poetry, Frank illustrated and penned her own verse. "I did like melancholy poems," she recalls, "There was one; 'O melancholy, turn thine eyes away'... Poetry doesn't carry happy, cheery messages." A result of what she modestly referred to as "being very romantic but not very pretty", she would spend hours alone, sketching and daydreaming over various loves. Perhaps in a nod to this, many of her earlier works were signed "Al Aaraaf"- an appropriation from Edgar Allan Poe's cosmic poem about two lovers who live on a star.
Brian Stewart, the curator of the Falmouth Art Gallery and already an admirer of Frank's work, was only too happy to include her pieces in the upcoming show. Encompassing the exhibition with a sweep of his arm, he describes his plans for her illustrations. "We have six pictures in total although only two are currently on display. I'm intending to rotate them as the show goes on - it all depends on the mounts."
Those currently available for viewing are "Adam and Eve" (1930); an unfinished work, and "There Sits Repentance" (1925), both of which have been published before, though Stewart hopes the unseen works will later get their airing.
It is the artist's niece, Fiona Frank, who emerges as the person responsible for bringing so much of Hannah's work to public attention, working tirelessly to promote her aunt's creations in a succession of galleries and broadcast shows. "My aunt, who's in good health, is very happy with all this attention she's getting at this stage in her life - though having to walk through a gallery four times while the TV cameras were rolling to 'get it right' made her feel that the price of fame might be a little too high."
One book has already been published - Hannah Frank: A Glasgow Artist- Drawings And Sculpture - but so many lost articles have recently been recovered that another is now in the making. "I am planning a new book," says Fiona, "of my aunt's poetry, diaries, and the unpublished drawings and sculptures that we've found since the [first] book went to press."
What precisely will become of this body of work is unknown; whether it might become part of a permanent gallery exhibition or dispersed among relatives had not yet been decided. Much of the collection is already on show at the retirement home in Glasgow where Hannah now lives, to the admiration of visitors and residents alike.
The artist's personal desire for her life's works are, however, all the more clear: "I want them to be the footprints on the sands of time. As long as people remember them and know them, then I feel as if I'm still alive."
Artist of the Century
Jim McBeth, Scottish Daily Mail, 23rd August 2008.
Born in 1908, she is the last living link to an artistic explosion that put Scotland on the creative map.
She is frail these days, a venerable old lady with delicate hands that once created beautiful sculpture and the inimitable other-worldly
drawings that characterised the artistic fashion of her youth. As she reaches 100 today, Hannah Frank's hands are idle but then her work is
done and her honoured place in the history of Scottish art is assured as the last living link to Art Nouveau.
Jessie M King, Charles Rennie Mackintosh, his wife Margaret and her sister Frances Macdonald, were the great stars of the decorative new movement of the late 19th and early 20th century. Glasgow led the way and Frank, who was born in the city, embarked on a career that would span eight decades.
The simple, elongated lines of her ethereal figures defined the zeitgeist and built a bridge to the era of Modernism before she embraced sculpting - a discipline she was guided to by Benno Schotz, the great Scottish sculptor who is regarded as a giant in the field.
In a career lasting from the late 1920s to the early years of the new millennium, her work has been exhibited on three continents, an artistic legacy that makes her one of Scotland's most significant artists.
'When there is a discussion about 20th-century art, her work will always be considered,' says Sandy Moffat, the former head of painting at Glasgow School of Art, where Frank studied in the late 1920s.
His colleague, Mark O'Neill, head of arts and museums for Glasgow, which is absorbing more of her work into the civic collection, adds: 'She is a significant figure in the history of art in the city and her work is delightful.
'Hannah is undoubtedly one of Scotland's treasures and it's amazing to think that the last connection to the Glasgow Girls should be with us still.' Today, when Frank receives her birthday card from the Queen, the redoubtable Jewish artist can look back on a long life and sparkling career. 'My ambition was to leave footsteps in the sands of time,' she says, quoting one of her favourite lines from Henry Wadsworth Longfellow.
But the diary of Hannah Frank was not always easy to write. She had to overcome prejudices that would be regarded by modern society as unthinkable. Her father was a Russian émigré, who fled persecution to settle in Glasgow in 1905. As young Hannah grew up, she realised persecution of Jews was not confined to pre-revolution Russia.
In her teenage years, the burgeoning artist suffered the routinely casual sexism and bigotry that dictated Jewish girls should not be given higher education. In spite of it, the brilliant pupil was accepted by Glasgow University, where she began studying to be a teacher, a career she gave up to become a fulltime artist. Her father, who by now was running a photographic shop at the corner of Glasgow's Saltmarket, supported her ambition but counselled her to get a career and pursue art as a sideline.
Persuading the executive of Glasgow School of Art to allow a Jewish girl to study there in the evenings presented a high hurdle. She recalls: 'There were no Jewish artists. I remember how upset my mother was, having to ask one of our neighbours - a city bailie - if he could help me get in. My mother said it was the hardest thing she ever had to do.' But the bailie's influence worked and Frank was allowed to study.
She reflects: 'Being a woman and a Jew made me a one- off.' Among people whose religion and culture combine to assume the dimension of nationality, she could not escape her roots: 'In spite of being born in Glasgow, I regarded myself then as Jewish rather than Scottish. It was something you could not escape.' Her religion definitely added more steps on the climb to success: 'You mustn't think that Germany was the only place where people discriminated against Jews. I remember standing in a grocer's shop and hearing a couple complaining that those Jews were buying up all the fruit. But the things that happened to the Jews in Germany were especially terrible and it had an impact on my work.' Works such as 'Flight' (1939) demonstrate that dark side, with grim figures reflecting the plight of the fleeing refugees. Yet despite the gathering clouds over Europe, life for Frank, with her father, her mother and three siblings was happy.
But she burned to be an artist and the studious girl based many of her drawing on passages from the classical poets and the lyrical language of the Old Testament.
Between 1927 and 1932, she produced fortnightly illustrations for Glasgow University magazine. It was these pen-and-ink drawings, with their echo of the English illustrator Aubrey Beardsley, that helped build her career.
And this week that career will be celebrated in her home town when her life and work will take centre-stage in a series of celebratory events, including a new exhibition.
An anthology of her art, Hannah Frank: Footsteps on the Sands of Time - A Hundredth Birthday Gallimaufry, was published yesterday and she is to be honoured by MSP's with a reception at the Scottish parliament.
She quips: 'I'm flattered - I hope I'm alive to see it all.' The honours are deserved, according to Gavin Wallace, head of literature for the Scottish Arts Council, who says of Frank's art: 'The dark and beautiful heart of Glasgow sang out from every work. We are delighted to celebrate an important artist.' Mr O'Neill adds: 'Hannah emerges with honours from the illustrious cluster of Glasgow Girls such as Margaret Mackintosh, Frances Macdonald, Jessie M King and Bessie McNicol. She is the sole survivor of a group who experienced at first hand the momentum of a European art movement.
'Her drawings, even as a teenager, were similar to King. Hannah was very modern and, of course, her sculpture was influenced by the great Schotz. 'Because there were so many "stars" of the period, it is inevitable she is sometimes regarded as less well known than them. It would be nice to redress the balance, in honour of her birthday.' Frank's pen-and-ink drawings, done between the 1920s and the 1940s, and her sculptures, dating from the 1950s to the early 2000s, are exhibited all over the world.
But many of her early drawings have languished in suitcases. The new exhibition, which opens today, includes 17 recently discovered works dating from the 1920s.
The artist's niece, Fiona, says: 'We've discovered many of her artworks in old suitcases. I'd noticed pieces of sugar paper and assumed they were packing material. To my amazement, they were revealed as coloured drawings of figures.
'We think she did them during life classes at Glasgow School of Art. She used vibrant colours, quite unlike her trademark black-and white work.'
Frank refers to the drawings as the 'selfish children' she never had with her late husband Lionel Levy, whom she married in 1939: 'We did not have children. That is my biggest disappointment in life. Lionel was a good man and I could find no fault with him.'
The newly discovered artworks are more precious because Frank all but gave up drawing in the early 1950s to concentrate on sculpting after being influenced by Schotz, who had seen her modelling clay.
Her sculptures are reminiscent of Schotz's unfussy forms. One work - of a woman - will also be seen for the first time in the exhibition.
Fiona Frank adds: 'It was found on top of a wardrobe. It has its arms stuck out and a big fat bottom. It looks a bit like a crucifix. When Auntie looks at it, she says, "Oh, that's not like me. It looks a bit goy-ish (non- Jewish)".' Frank may have learned from the best but she was resolutely her own woman. She says: 'I just did what I wanted and, if people liked it, so much the better. My advice to young artists is always to do what makes them happy.' Like the work of earlier Romantics, her drawings and sculptures were inspired by Palgrave's Golden Treasury of English poetry - Yeats, Keats, Shelley, Wordsworth and Edgar Allan Poe, whose work she learned by heart.
Frank's younger self was characterised by daydreams of 'the boys I liked who didn't fancy me. I thought I was ugly - I certainly wasn't beautiful. I knew I wasn't good-looking but, like my Jewishness, I don't really know how much it influenced my work.
'You can't be Jewish without knowing it and thinking about it. It's not that I'm religious but it's like something that won't go away. 'There were no Jewish artists in my early days. I shunned models and always worked from imagination. The figures in my works come from poems I'd read. Sometimes, I would think of the images during a walk or in bed. I would also read the Old Testament for its beautiful and lyrical poetry.'
Her earliest drawings were signed with a nom de plume - Al Aaraaf. It was inspired by Poe's poem about the mysterious star, discovered by Danish astronomer Tycho Brahe in 1572, which appeared suddenly, attained in a few days a brilliancy surpassing that of Jupiter and then disappeared.
It is, she says, a fitting analogy of her life: 'That will do me. I had a few days of brilliancy and I'll disappear, never to be seen again.'