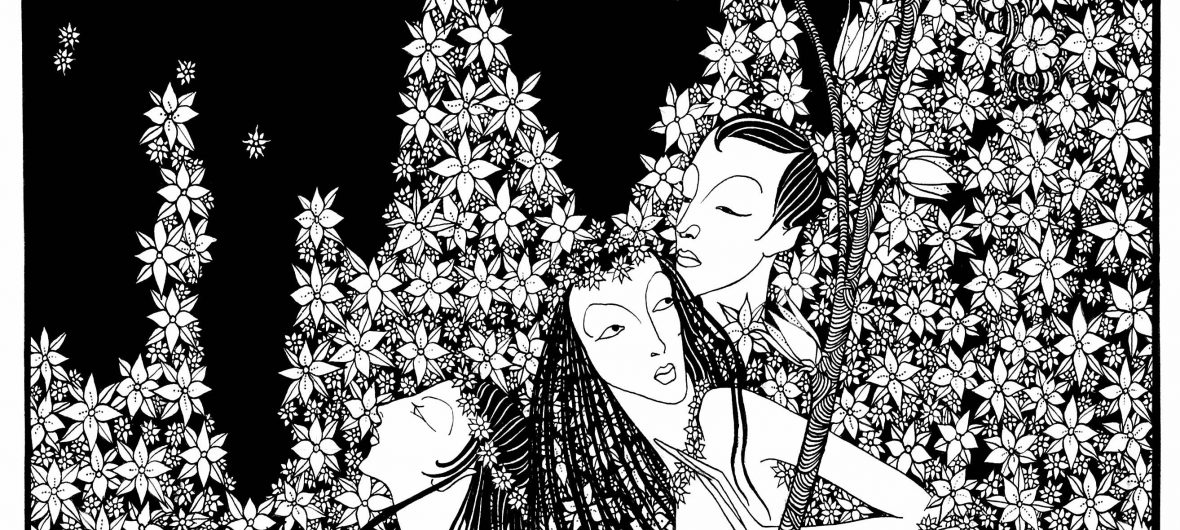 The website is currently under construction. Apologies that some areas will be inaccessible during the redesign. 
In the meantime, contact Fiona Frank for information about print sales and exhibitions at hannahfrankart@gmail.com
HANNAH FRANK 110th Birthday Exhibition
at Glasgow University Chapel, Nov 2018 to 6 Feb 2019 has now ended. It included a range of creative workshops, talks and tours, and lots of people made creative responses to Hannah Frank's art. After the exhibition we worked on a 'legacy' project with Lottery funding through Creative Scotland, to find a way to display these and more creative responses to this work, to enhance this website with even more creative ideas to help you enjoy Hannah Frank's art, and to make an inventory of all her known art works for posterity. We plan to continue this work through 2021.
To help us with the last activity: if YOU own an original Hannah Frank drawing (may be signed Hannah Frank or Al Aaraaf) or a bronze, plaster or terracotta Hannah Frank sculpture, PLEASE CONTACT US.
Hannah Frank's work is permanently honoured as part of a set of seven arches, designed by artist Liz Peden and unveiled in 2016, under the Cleland Street railway arches in Glasgow's Gorbals along with two other notables who were born in the Gorbals: Henry Pinkerton who founded the detective agency, and the boxer Benny Lynch.
Please look round the site for more information about the artist's life and work. Click on the gallery/shop to view her work and purchase prints and books. Get in touch (contact details at foot of page) to enquire about bronze sculptures for sale. We are very keen to work with galleries to ensure that Hannah Frank's work remains in the public eye. Please contact Fiona Frank to discuss possibilities.
"Her work will always be considered, when there's a discussion of art in the twentieth century, in Glasgow, and in Scotland. I think her place is secure."
– Sandy Moffatt, Head of Painting & Printmaking, Glasgow School of Art
Hannah Frank (Al Aaraaf) died in December 2008. In 2009 she received two posthumous awards: Glasgow City Council's Lord Provost's award for Art, and an Honorary Doctorate from the University of Glasgow. Born in Glasgow in 1908, Hannah studied both Glasgow University and the Glasgow School of Art.
She produced her trademark black and white drawings from the age of 17 in 1925, and between 1927 to 1932 the GUM, the Glasgow University Magazine, rarely came out without a drawing by 'Al Aaraaf', her chosen pen name. Gilbert Highet, GUM editor in the late 1920s (and later Anthon Professor of Latin Language and Literature at Columbia University, New York) was an early fan.
Hannah's haunting black and white drawings are resonant of the Art Nouveau period and with a hint of Aubrey Beardsley and Jessie King. She took up sculpture in the 1950s, studying with Benno Schotz; and her drawings and sculpture were exhibited in the Royal Glasgow Institute, the Royal Academy, and the Royal Scottish Academy, throughout her artistic career.
Hannah Frank continued to produce sculpture till her early 90s. In 2002, aged 94, she moved with her husband Lionel Levy to a care home in Glasgow, where her drawings and sculpture are on show after her death and are much admired by residents, staff and visitors.
Hannah Frank wanted to 'leave footprints on the sands of time', in the words of Henry Wadsworth Longfellow. This website is designed to help in this process. Hannah Frank's drawings and sculptures are available for short loan exhibitions and signed and unsigned reproductions of her drawings are available for sale as prints and cards.