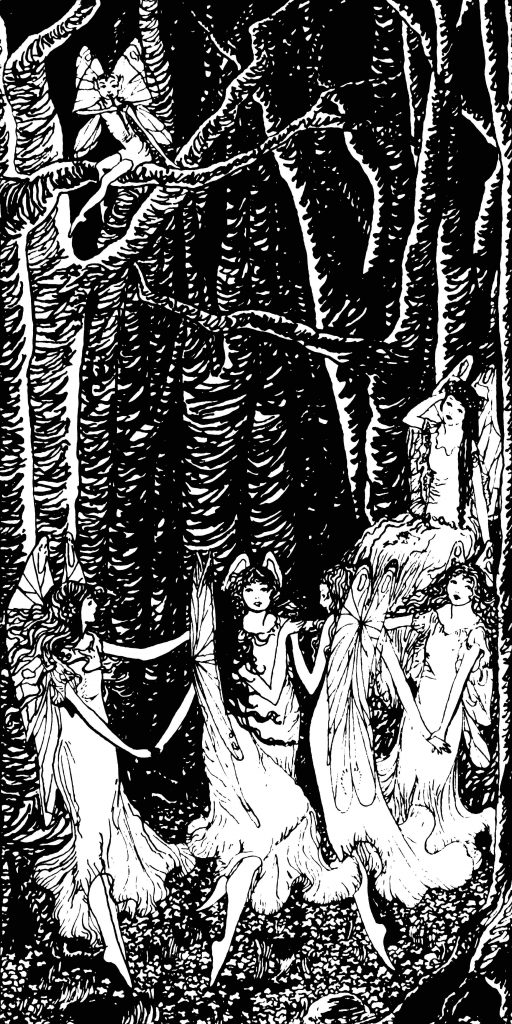 Year:
1925
Medium:
Pen and Ink
Measurements:

10.5 x 21cm

Tour Stop no 2

The Bell Jar, 21 Dixon Avenue

G42 8EB

 

Provenance:
Private collection, Stoke Newington
Fairies in a Wood is Hannah Frank's first known pen and ink drawing, drawn when she was only seventeen. When compared to her later works, the drawing clearly demonstrates the artist's youth in terms of her artistic maturity. The audience can see that the work marks the start of Frank's lifelong interest in both natural landscapes and flora, as well as her interest in mythical and mystical themes. As her career progressed, Frank refined her depiction of these themes as well as her artistic style, with more distinct geometrical shapes and polished line-work.
Contrasting with the later works that Frank became known for – such as Night, Dance, and Spring Frieze – the linework within this drawing is uncharacteristically rounded and creates an overall feeling of softness and a child-like atmosphere. Frank blends fine and viscous white lines to depict the scene, resulting in an unrefined and blurred impression that makes it difficult for the viewer to focus on a particular feature.
In the foreground, the viewer can see a field of flowers, a motif revisited many times throughout the artist's career. Hovering above the field are five fairies dancing in a circle. They are drawn clothed in elegant, light dresses with long, flowing curly hair. To the right, above the fairies dancing, Frank depicts a tranquil looking fairy with dark, curly hair that falls to her waist: she looks out of the pictorial frame to meet the viewer's gaze.
From this point, the viewer's attention is brought to the branch of a tree which divides the drawing diagonally, leading their eyes to notice the plethora of trees found in the background of the image. This branch highlights a tree on the left-hand side of the pen and ink drawing, on which a last figure is depicted. This last fairy, depicted more like a humanised butterfly, is less clearly identifiable than the other figures. It is drawn in the background, sitting on a branch and looks androgynous. It has butterfly wings, its left leg is pointed to the ground like a ballet dancer, and it seems to be watching over the dance scene happening beneath them.
The original drawing was untraced for many years and surfaced in a gallery in London in 2003 where it was purchased by a cousin of the Frank family. It was again exhibited at the 100th Birthday exhibition at Glasgow University Chapel in 2010 and later at the MacLaurin Gallery in 2014. A print was exhibited at the 110th Birthday exhibition.