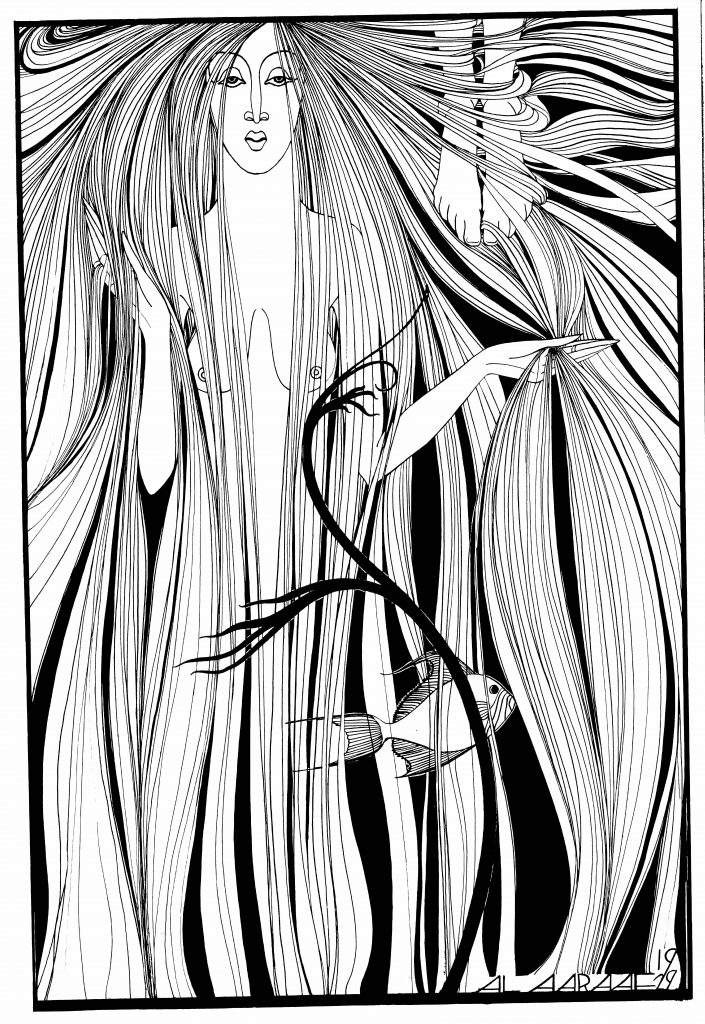 Year:
1929
Medium:
Pen and Ink
Measurements:

34.5 x 22.9cm

Exhibition History:

– exhibited in 2008 in the Glasgow University Chapel (Hannah Frank 100th Birthday exhibition)

– exhibited in 2018 in the Glasgow University Chapel (Hannah Frank 110th Birthday exhibition)

Provenance:
Private collection, Glasgow
The main focal point of this composition, although not in the centre of the image but at the top left hand side, is a powerful female face. She faces the viewer and looks very confident, engaging with us with a strong eye contact.
The woman is naked and is standing up with very long straight flowing hair, fine, elegant, and untangled. All the lines of these individual strands of hair flow towards the focal point which is the top of her head and which is out of view, just outside the frame of the drawing. Since all the elements of the drawings are not visible as wholes, the artwork leads the viewer to imagine what stands beyond the composition.
Her right hand is raised towards her shoulder as she grasps strands of her long-flowing hair. Her left hand is stretched out from the elbow outwards. It appears as if she is clasping or gripping strands of her hair as if she was trying to break through this mass of hair in front of her. Her very sharp fingertips add to this interpretation as they are alluding to scissors – yet the feeling on her face remains very serene. The rest of her body disappears. We cannot see her legs or her feet.
However, two feet appear at the top right hand side of the drawing. Ankles and toes are visible and stand right next to the woman's face. The feet are entangled in the strands of hair which appear like ropes binding them. Could they be her feet? Or someone else's? These feet are not going to go anywhere and seem to be trapped. In fact, the whole scene appears as if the woman is trapped in her own hair and trying to make her way through.
The effect that Hannah Frank has created in with lines to form long flowing hair reached down to the bottom of the composition where thick black lines start to appear as a well as a strand of seaweed reaching up and beginning to coil. Behind the seaweed and in between the strands of hair, appears a single fish, swimming to the right hand side of the composition. It alludes to the title of the drawing, Sea Story, and cultivates our imagination. It is very unusual to come across animals in the art of Hannah Frank, and in fact this piece in her only work showcasing a maritime theme. The drawing has a strong Art Nouveau feeling. We can see the influence of Mackintosh as the hair is merging into natural elements. Nature was a constant inspiration in the work of Hannah Frank.